It's not everyday you get asked to make a monkey bracelet – this was a fun project to work on.

The particular monkey in question forms part of a family coat of arms.  Legend has it that a pet monkey was chained in a castle, when a fire broke out.  The monkey managed to free itself to save a baby who was asleep in its cot. As gratitude to the valiant monkey, the family incorporated it into their coat of arms: the Fitzgeralds.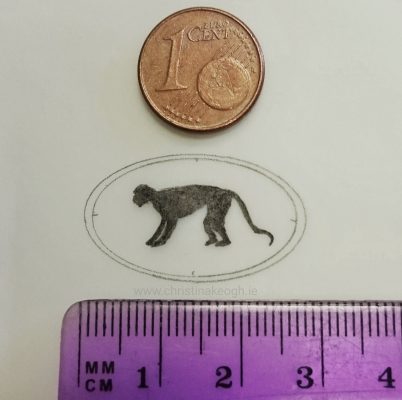 Having researched the design of this monkey, I carefully pierced (sawed) his silhouette out of a sheet of sterling silver using my jeweller's saw.  I then soldered it to a backing sheet of silver, added the monkey's chain detail, and oxidised (blackened) the design to make him stand out. The back of the monkey charm is hand-engraved with the family's motto.  To complete the bracelet, I handmade the chain and T-bar catch.

I love this bracelet – it holds a lot of meaning to its owner, and it's a fun, unique piece too.